Werkbank – Experts in Plone
We specialise in the planning and implementation of web projects with exceptional size, scalability and technological requirements for data security and reliability. In most cases this requires the use of a so-called "content management system" (CMS) to efficiently organise, update and provide data.
We regularly work with a variety of systems and technologies, preferrably with open source software. When a highly scalable and secure content management system is needed, the CMS "Plone", which is based on the scripting language Python, becomes our system of choice.
The international Plone Community, which we have been part of from the start, has been actively developing Plone since the year 2000. Their combined efforts lead to Plone's release in 2003. With a big team of developers we have ensured Plone's independence and continued existence.
Our Current Plone Projects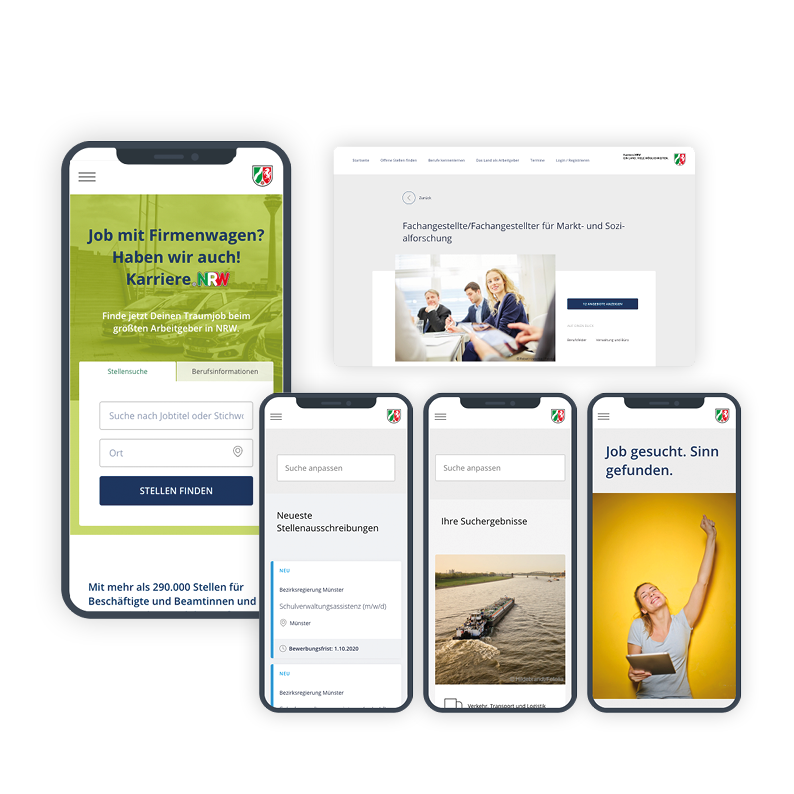 Job Portal for North Rhine-Westphalia
https://karriere.nrw/
We planned, designed and implemented the new job portal for the German federated state of North Rhine-Westphalia (NRW). The project consists of a progressive web app (PWA) which is backed by a Plone-based CMS for managing job offers. This system is connected to all relevant departments in NRW. A Django-based database contains and manages the information about current job offers. Users are able to search for and filter job offers with the help of the SOLR-based search engine. Furthermore the portal allows users to save their search queries and job offers in order to be notified of updates and deadlines via push notification or email. We are also hosting this complex system.
Web Shop With Over 1 Million Products - Klingspor AG
https://www.klingspor.de/
The responsive Plone website contains a custom web shop with over 1,000,000 products to date as well as a product search and suggestion engine and is currently available in 42 countries and 29 languages. Plone manages the logins for suppliers, sales and distribution and is connected to a Retail Connect, Nextmark and SAP interface. The website is also hosted by us.
More of our projects can be found under Projects.
Plone – Advantages Over Other CMS
A content management system ensures that your content is served in an accessible (according to WAI and the German BITV) and platform and client compatible manner. Additionally, it provides a basis for modelling complex workflows through extensive permission management capabilities. A modern CMS is easy to use and offers extended functionality through the integration of databases, user, permission and session management.
Plone is characterised by its large amount of integrated functionality that has to be manually added to other content management systems. Plone includes builtin support for RSS feeds, version control, WYSIWYG editing, and multipath staging workflows, for example.
Moreover, Plone is highly scalable thanks to the underlying ZOPE application server and ZEO database cluster. It counts as one of the fastest content management systems available.
Plone's user interface is consistent and easy to use. The intuitive design in the frontend editor leads to significantly less resources being spent on training and support.
Plone and Security
One of Plone's biggest strengths are its extremely high security standards: no other CMS, commercial or open source, has a better security footprint than Plone! This was proven by a study performed by the German federal office for information security.
Since Plone is based on the scripting language of Python, it is unaffected by countless architectural vulnerabilities of the scripting language PHP, on which many CMS (e.g. Typo3, Wordpress, Joomla, Drupal) are based.
Plone is reliably used - internationally.
Plone continuously proves as a reliable CMS solution all over the world. It is constantly used by small companies, administrations, ministries, universities, public and private institutions as well as commercial and non-profit organisations.
We look forward to developing your next project! Our contact details can be found here.